10 best web design tips for Chiropractor Websites that make the difference.
Are you confident that you have the best chiropractic website in town? Perhaps not yet. But if you take the next 10 days and devote each to one of the ten steps below, I promise you will see some great results.
Want to explore a new chiropractic website design for your clinic? My custom website design packages are ideal for established chiropractic clinics looking to grow their client base. Book a free consult with me for a custom web design quote. Let's best fit for your growing practice.
How do new chiropractic patients find your clinic? Word of mouth referrals? Advertising? Insurance? What about your website?
Can new patients find you online? When they land on your site is it easy for them to understand what you do, how you can help them, and how to book their first appointment? The best chiropractic websites both inform and inspire, expanding people's awareness of what chiropractic has to offer and leading them to book their first chiropractic visit & adjustment.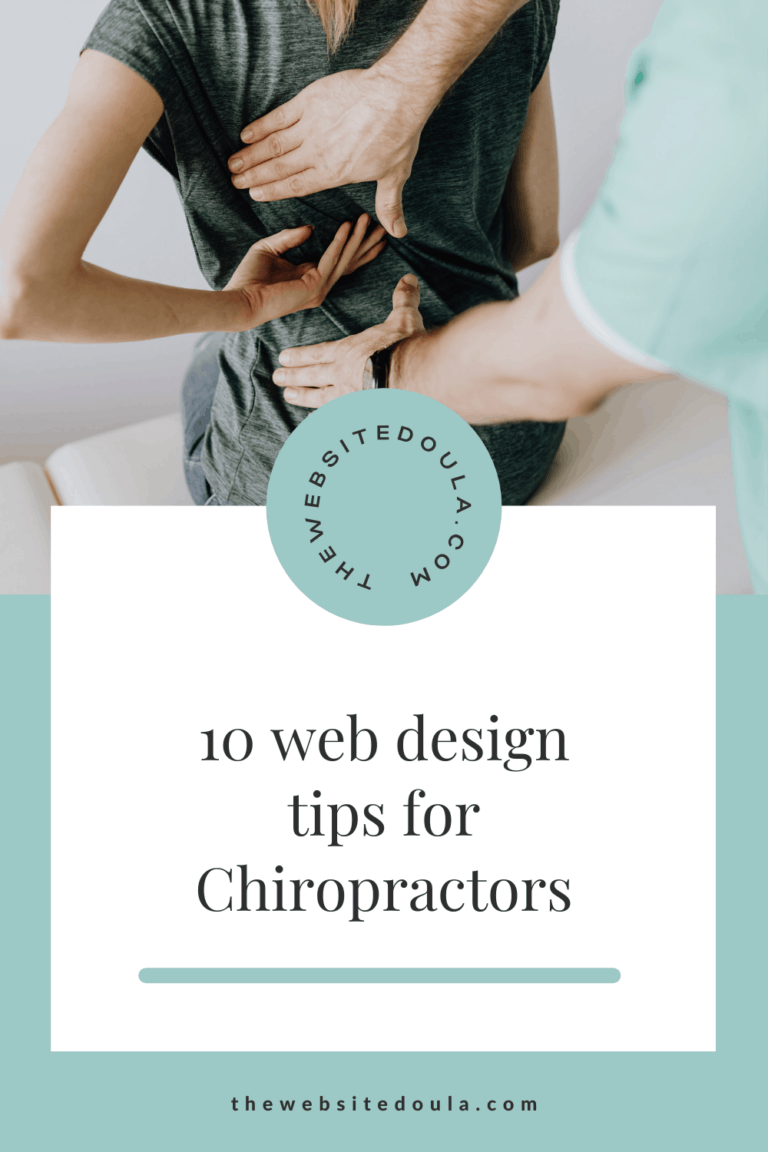 1) Interactive contact details so I can get in touch with your clinic easily.
This seems Sooooo obvious, right? Of course your website should have your contact information! My long-time chiropractor recently changed offices to a part of town I am not as familiar with. When it was time for my first chiropractic adjustment at the new location, I had to jump on my phone, find their address, and activate mapquest to help me get there on time. When I arrived, I was able to simply click on their phone number in the footer to call the reception desk and have them set me up with the paperwork in a covid-safe manner from my car.
You'd be amazed at how often I visit websites on which the contact information – email, phone number, address – requires multiple clicks to find it. Perhaps it is buried on the contact page, or in a small box somewhere on the services page. Especially given the number of people accessing your site via a mobile device (typically this is over 50% of your audience), you need them to be able to find that information – and use it – quickly. That means a map, a phone number that automatically dials on mobile, and an easy to find contact form. We can even set you up with an SMS link that auto-texts the first part of their message!
2) Booking form to help me book my next adjustment.
Again, a booking system seems common sense, right? And yet… the new chiropractic clinic I mentioned above just as a Book Now button, that opens up an email box using an old email program that I don't have connected on my computer! Ugh. Now I have to remember to call them to book my next appointment. Honestly, the work involved in actually dialing their number, waiting on hold, and then trying to find an appointment that works with my schedule has kept me from booking a much-needed chiropractic adjustment all week. Silly, I know, but with our busy lives, the ability to book online without human interaction is strangely attractive – and quickly becoming the standard of care.
Popular booking systems that allow for HIPAA compliance include acuity scheduling and janeapp.
One more thing… make sure your booking form doesn't ask too many questions. You don't need to know their full medical history at this moment. Keep it barebones – exactly what do you need to know to book that appointment? Nothing more, nothing less.
3) A call to action. Book a Chiropractic Visit Today!
A Call to Action is exactly that – an invitation or clear pathway that says HEY YOU! HERE'S WHAT YOU NEED TO DO!!!! Wouldn't it be nice to have that kind of clarity every day? Your chiropractic website needs to offer this crystal clear clarity to potential clients. Book Your Appointment Today. Book Now. Book Your Initial Visit. You need to make it super obvious – a link that says "take the next step" doesn't give me a clue as to what will happen when I click on it.
4) Copy that converts site visitors into chiropractic patients.
The most beautiful website in the world won't do a thing for you if it doesn't convert site visitors into beloved patients. The default for most chiropractic clinic websites I see is very practical and frankly boring long lists of all the things chiropractic care can help me with. Ten years ago websites were seen as informative brochures.
In 2021 the best chiropractic websites are designed to engage and inspire – both through their design and their copy. Well written copy will help visitors understand how your care can transform their health and believe that you are the right chiropractor to care for them – and their family!
5) Blogging strategy to inform your patients and increase your clinic visibility
You might be groaning at my mention of a blog. I get it – it's definitely a lot of work to think of great topics and keep it up to date. Here's what happens when you actively blog with intention (strategy is key!) for your chiropractic website:
You have a site filled with valuable information for visitors and patients – helping you keep them informed & aware.
Google sees you as an active engaged professional because you are growing the content on your site with more relevant, uber helpful information – and this inspires Google to want to share you with more people in search results (yay!)
Every single blog post you write creates a new pathway for people to find you and get excited about your care. That alone should be the motivation you need!
6) Add more keywords (SEO) that are related to chiropractic care
Do you track your analytics? SEO makes most wellness practitioners want to run in the other direction, but if you take the time to learn how it works it is a truly fantastic tool to support your website. You could have the best chiropractic website in your entire region, but if it doesn't show up in search results you're not going to reap the benefits of it. A good chiropractic website Must have solid SEO settings in place and a strategy to help it grow. Here are some helpful guidelines on SEO for chiropractors.
Are you Webster-Certified? Great! Talk about that – devote a whole section of your site to care for pregnancy and breech babies. Don't let it get lost in a checklist of certifications or offerings. Do you have a special interest in working with babies and young children? Create a page on your site devoted to infant and pediatric chiropractic care! Make sure you are using a variety of keywords to describe your chiropractic clinic – chiropractor, chiropractic adjustment, chiropractic clinic, chiropractic treatment, Minnesota chiropractor – plus of course all the conditions you work with.
To track your analytics be sure to install the free Google Analytics tool – but you'll need to wait a few months to give it enough time to track your audience interactions with your content & evaluate the results of your SEO efforts.
Curious about Search Engine Optimization? Make sure you listen to my podcast interview on SEO for chiropractors with Dr. Danielle Eaton of AlignedWomen!
7) Giveaway with email opt-in to your chiropractic clinic mailing list
Do you have an email list for your chiropractic clinic? Do you use it? How do people join it? The best way to grow your mailing list is through a giveaway with email opt-in. Pop-ups are highly effective for client conversion, or a featured box on your home page with a free PDF Guide to Back Health. You can even set up an automated email series to accompany the giveaway.
8) The best chiropractic websites are Definitely mobile responsive!
A few years ago mobile responsive design became the gold standard for best web design practices. Even Google added mobile-friendly evaluation to their assessment of where to show your chiropractic clinic website in search results. Bottom line: If your website doesn't work seamlessly between larger screens (desktop and laptop), tablets and phones, you are losing potential patients – and a lot of them.
There is, by the way, a big difference between a site that is mobile-friendly, and a site that is truly mobile responsive. Most of the website builders out there are just mobile-friendly – that means they are creating a mirror version of your website for mobile. While you can adjust the appearance of your site on some of the platforms, such as Wix, those changes then impact your larger site as well. With a fully mobile responsive design for your chiropractic website, we can 100% tailor the user experience on larger and smaller screens.
9) Site Speed
Site speed matters. A lot. The average time spent on a website is 15 seconds – or less. That's crazy! If 7 of those seconds are simply waiting for your images and content to load, I can promise you have likely lost that potential chiropractic patient to the next clinic in the search results.
Even scarier? Did you know that 40% of people abandon a website page if it doesn't load in less than 3 seconds? THREE SECONDS y'all.
You can test your site speed using the google speed index, or gtmetrix (note: results will naturally vary over the course of a day and between tools).
What makes the difference with site speed? Optimize your images, great web-hosting, use a caching plugin such as W3 Total Cache or WP Rocket (this is the advanced tool I use on the client websites I do monthly web maintenance for).
10) Social Media
For some of you, social media is just as groan-inducing as my mentions of search engine optimization. When used correctly, however, social media is an amazing tool to complement your chiropractic website. How? It offers a way for people to get a sense of your clinic vibe and values, catch a glimpse of your care model, learn about your care, and feel connected to your chiropractic clinic family even between visits.
Does your chiropractic website have links to your social media accounts? Do your social media accounts link back to your website? Do you have social share installed on your blog? While Google can't sit down with you for tea to get to know why you are the best chiropractor in town, it can observe and measure how people are interacting with your website content online – and that is a heavy influencer of how it will show your website in search results.
---
Hi there, I'm Sarah Juliusson, and yes I really am a Website Doula. I support your practice growth with creative website design, seasoned business guidance, and plenty of great resources to help you find your way. With 12 years in web design, and another 20+ years as a health & wellness pro, I believe in the value of your work as much as you do. Get started today with a Free Discovery Call!
- Sarah Juliusson

(she/her), the WEBSITE DOULA