Simple Trick for Google Reviews
Having a Google+ Business Page with glowing reviews is a great way to boost your website rankings, allowing for an additional way for your site to show up in local search. (Here is my tutorial on how to create a Google+ business page for your doula practice!) Recently Google Business & Google Plus separated their platforms - as a result, your Google+ Business page format has been updated and there is no longer has a clear way to leave a review for your birth or postpartum practice. Frustrating, I know!
I recently figured out a great way around this, and thought you might appreciate the simplicity of this technique for your clients. Especially given your client base of new families, the reality is that new parents may have neither the time nor the desire to wade through the complexity of Google+ to leave you a review, no matter how much they Loved your care!
STEP ONE
Do a google search for your business name to find your Google+ page listed in search results. To open up the page as you see below, I clicked on the business name highlighted in the green box. While there is a "write a review" button in the image below, there is no way to send clients there directly. The method below will allow you to create a custom link from your website directly to the reviews page!
STEP TWO
Click on the More Google Reviews link below the reviews and you'll see a pop up box.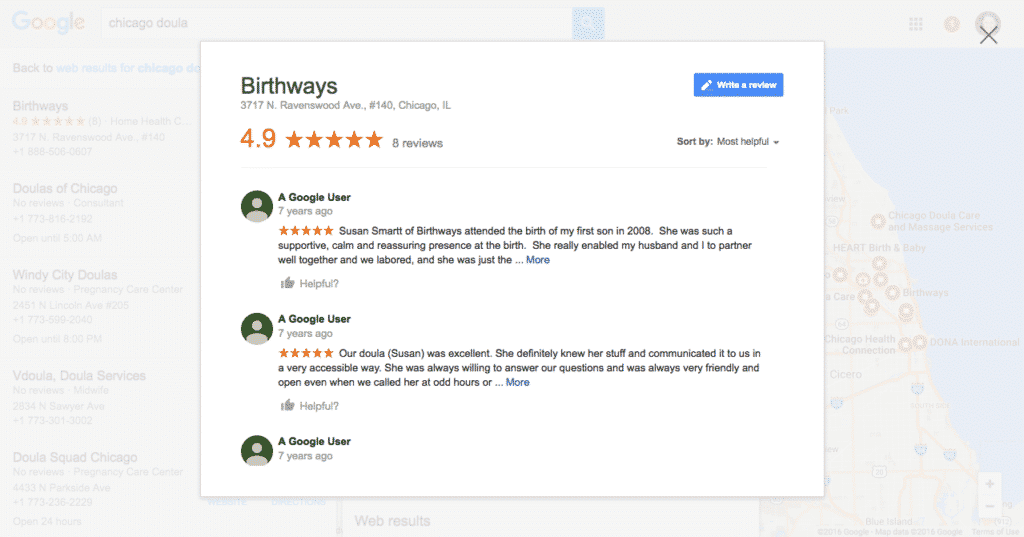 STEP THREE
Once you've opened the popup box of google reviews, take a look up at the top of your screen and copy the URL. It will be very long and full of random characters. Now while you could simply give this URL directly to clients, it's awfully long & not very professional looking, and may not work depending on the settings on their computer. From here you have two options >>
OPTION #1 >> Shorten your link at Bitly.com
OPTION #2 >> A bit more effort and takes a bit of know-how, but oh so effective & pretty. If you're on wordpress, install the Redirection plugin and create a redirect from your site, such as http://awesomedoula.com/googlereview to the Google URL you copied above.
The Result?
A custom link from your website that takes clients directly to the page where they can leave you a glowing review!